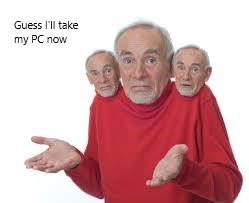 It finally happened. After six grueling weeks Adam has his actual PC back in his house, hopefully never letting leave the house again. There were only a few dozen complications, but the saga is finally over with no sequels in sight.
The new Switch was announced! Will any of us want one (no)? But there are some benefits to it. Listen in and find out! 
Also, our own website, www.comegetyourpodcast.com had another Mitz's Main Squeeze post! If you need help finding a good board game that both your hardcore friends and your more casual friends can play together, Misty has got it figured out for ya. Even if you don't need help, go check it out!
We announce our running in this year's Extra Life 24 hour stream event later this year in November; stay tuned for more details!
As always, a big thank you to Eric Skiff for our intro and outro songs. If you like what you hear, you can check out his entire catalog over at www.ericskiff.com!